Washing utensils might be a tedious and boring task for many; however, we can't skip the same from our daily lives. While washing the utensils we either make them dry by removing excess water using a kitchen cloth or we store the wet utensils next to the sink allowing them to dry in the air.
  The former activity calls for spending double time on the task and the latter activity gives the kitchen an untidy appearance and takes up a lot of space. Our target is to save you both space and time while imparting a tidy look to your kitchen. Keeping in mind our target, we bring to you the kitchen Dish Sink Drain Rack.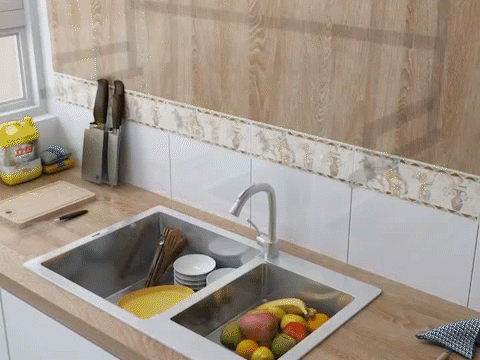 You can utilize this amazing dish rack over the kitchen sink for storing utensils along with a few of the kitchen provisions as well. By using the product over the kitchen sink, the water from the washed utensils will drop down in the sink itself thereby imparting your kitchen a much cleaner and a tidier appearance.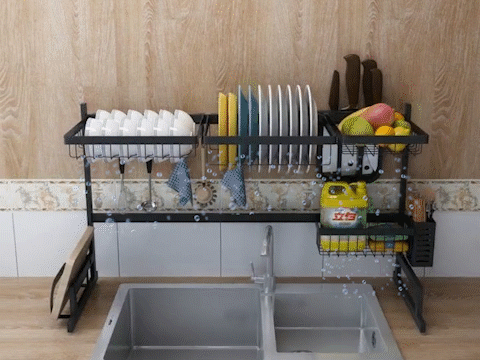 Made up of 304 stainless steel, the product is exceedingly durable and free from rust.
  Along with being an amazingly useful kitchen accessory, the product is appealing aesthetically as well. The various components of this Drain Rack are a dish rack, bowl rack, knife holder, chopping board rack, fruit & vegetable basket, a square basket, cutlery holder, and six hooks. The beauty of the product is that you can adjust the placement of these components as per your need. You can even remove components if required.
  Coming in two sizes of 65 cm/ 25 inches and 85 cm / 33 inches, this amazing Dish Skin Drain Rack is the need of every kitchen nowadays. So, what are you waiting for? Order one and give your kitchen the much-needed facelift.
  Material: 304 stainless steel material, no rusting, long lasting durability.
  Package Includes: 1 x Dish Rack + 1 x Plate Rack + 1 x Fruit & Vegetable Basket + 1 x Square Basket + 1 x Chopsticks Cage + 1 x Knife Holder + 1 x Chopping Board Rack + 4 x Hooks